This is a State public school that educates sensory impaired children. They serve youth from grades Pre-K to 12. They offer a full range of athletic programs as well as after-school activities and clubs. Students are taught and encouraged to be as self sufficient as possible. There is no cost to families.
Service Location
207 N. San Marco Avenue
St. Augustine, FL 32084-2799
United States
Provider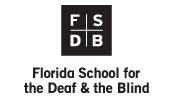 This school provides education and services to hearing and visually impaired youth. It serves grades K-12. There is also a pre-K early learning center. The Continuing Education Department serves young adults.
Toll Free: 1.800.344.3732
VP: 904.201.4527 or 904.201.4523
FSDB Switchboard: 904.827.2200
After Hours Switchboard: 904.827.2315
Homegoing Transportation: 1.800.992.8747
Public Email
dayc@fsdb.k12.fl.us
Address
207 North San Marco Avenue
St. Augustine, FL 32084
United States