CareerSource helps those individuals looking for their first job or their second career. The trained and dedicated staff will help job seekers navigate all aspects of building their career. Services are available to job seekers 16 years of age and older. Please call or visit the website for more information.
Services Available Include:
Assessments & Online Training
Career Counseling
Workshops
Work Experience Program
Financial Aid (to assist with training costs related to your education)
Clothes for Careers Initiative
Reemployment and Emergency Assistance Coordination Team (REACT)

Gadsden County

1140 West Clark Street
Quincy, Florida 32351
850.875.4040
Wakulla County
3278 Crawfordville Hwy
Suite G
Crawfordville, Florida 32327
850.926.0980
Service Location
2601 Blairstone Rd
Bldg C Ste 200
Tallahassee, FL 32301
United States
Provider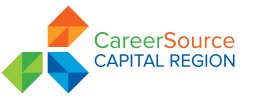 CareerSource Capital Region is a non-profit, workforce development organization. They operate in Gadsden, Leon, and Wakulla counties. The group helps job seekers that are ages 16 and older. This help includes career counseling and resume assistance. They also offer training and skills development. All services given are at little to no cost. Please call or visit website for more information.
Address
2035 E Paul Dirac Dr
Morgan Bldg Ste 236
Tallahassee, FL 32310
United States